The show has ended for 2015,
but we'll be back November 25 -
WINNER OF THE 2014 NATIONAL GOLDSTAR
FOR BEING THE MOST LOVED NUTCRACKER
National Goldstar Nutcracker Award! (aka "The Nutty")
"a show that had me quite literally gasping with laughter."
Joy Tipping, TheatreJones.com
RECIPIENT OF 8 BROADWAYWORLD.COM NOMINATIONS!
Best Director Charles Ballinger,
Best Actor Mark-Brian Sonna,
Best Actress Laura Lutz Jones,
Best Choreography Jana Edele,
Best Costumes/Wigs Larry E. Groseclose,
Best Supporting Actress Charli Armstrong.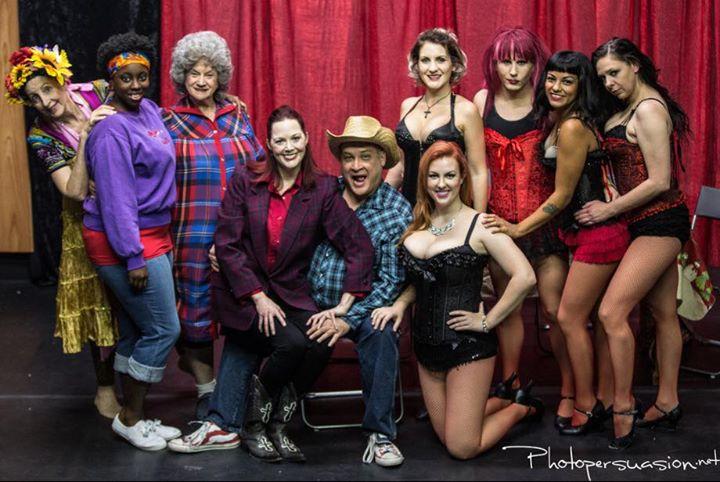 Cast of the 2015 show!
NOMINATED FOR THE 2013 NATIONAL GOLDSTAR NUTCRACKER AWARD
FOR BEING ONE OF THE MOST BELOVED NUTCRACKERS IN THE COUNTRY!!!!
"You've never seen The Nutcracker look this good, thanks to the Velvet Kittens."
-PegasusNews.com
"The show is filled with lots of energy and good hearted foolishness and the actors and the majority of the audience really seems to be enjoying themselves ... The show is a light-weight piece of want-to-be-filthy fluff that fortunately doesn't take itself too seriously. It exists for fun and seasonal laughs and delivers what it sets out to."
-Chris Jackson, John Garcia's The Column
NOMINATED FOR THE 2012 "NUTTY" AWARD!!!!!
FOR BEING ONE OF THE MOST BELOVED NUTCRACKERS IN THE COUNTRY.

"The most hilarious production I have ever seen!
MBS Productions scores another
huge hit with this holiday show that is an over-the-top, must see, "nut cracking" romp!!"
Richard Blake - The Column
NOMINATED FOR THE 2011 "NUTTY" AWARD!!!!!
"FOR BEING ONE OF THE MOST BELOVED NUTCRACKERS IN THE COUNTRY."
Broadwayworld.com
"I had a good time and a good laugh.

I recommend this play for those of you looking for something different."
John Strange, Selig Film News
The Beulaville Baptist Book Club Presents: A Bur-Less-Q Nutcracker is laugh out loud funny. The playwright/actor Sonna is insane, funny and smart.
A Bur-Less-Q Nutcracker bumps and grinds its way to big laughs."
Marilee Vergati - Examiner.com

"rollicking irreverent...
Once you've seen it, it will become a new (grown-up) tradition for your family every Christmas."
Carol Anne Gordon, Associate Theatre Critic for John Garcia's THE COLUMN


"Whoo-hoo!"
Gini Moscorro - KERA FM
"An unqualified hoot.
Highly recommended."
Mike Orren - PegasusNews.com
"MBS Productions have shunned tradition and has delivered a new holiday favorite all wrapped up and tied up with a fishnet stocking."
Lyle Huchton, Associate Theater Critic for John Garcia's THE COLUMN


"MBS Productions lovingly spoofs 'The Nutcracker,' and the result is plum funny, sugar."
-Mark Lowry, TheaterJones.com
Recipient of the 2008 Column Award Nomination as
BEST NEW PLAY OF THE YEAR
"..is as ridiculously fun as its title suggests....
This is a 'Nutcracker' for anyone who always wanted to chuckle during the ballet but didnít feel they could. Here, itís encouraged."
Arnold Wayne Jones - Dallas Voice

"MBS Productionsí A Bur-Less-Q Nutcracker transcends the conventional with gleeful delight and sends its audience out into the night with ho ho ho holiday hubba-hubba."
Alexandra Bonifield - PegasusNews.com

"The choreography by Mark-Brian Sonna and
Jana Edele, is ingenious, inspired and amusing. By turns graceful and bawdy, with just the right balance of edification and dance-hall shimmy."
Christopher Soden - Edge Dallas

"
Nothing enlivens family holiday gatherings quite like a burlesque routine."Jessey Hughey - Dallas Observer
"See a naughty Nutcracker...The fictional Beaulaville is possibly the only place on earth not familiar with burlesque, and high comedy ensues when the characters (and the audience) get exposed to it."
S. Anne Durham - Dallas Observer
Starring:
Mark-Brian Sonna
Kristen Blevins James Latreshia Lilly Barbara McIntyre Margaret Harrington


&
The Velvet Kittens:
Kristine Littlefield Dylan Peck
Maria Guditis Summer Martinez
Directed by:
Charles Ballinger
Choreography by:
Mark-Brian Sonna
Jana Edele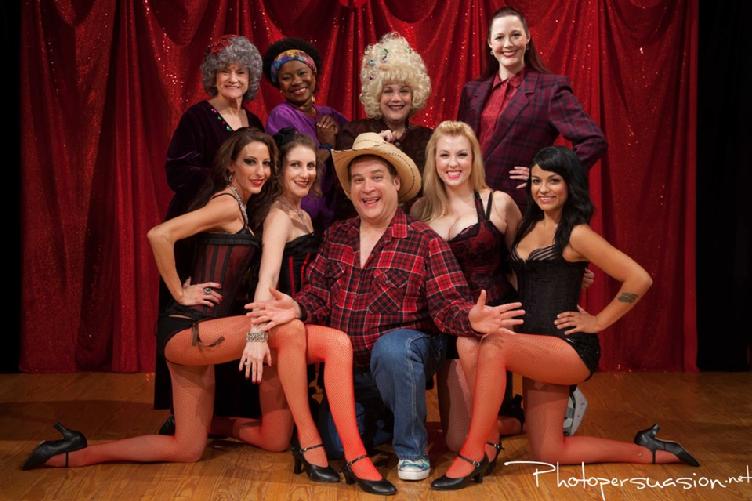 The 2012 cast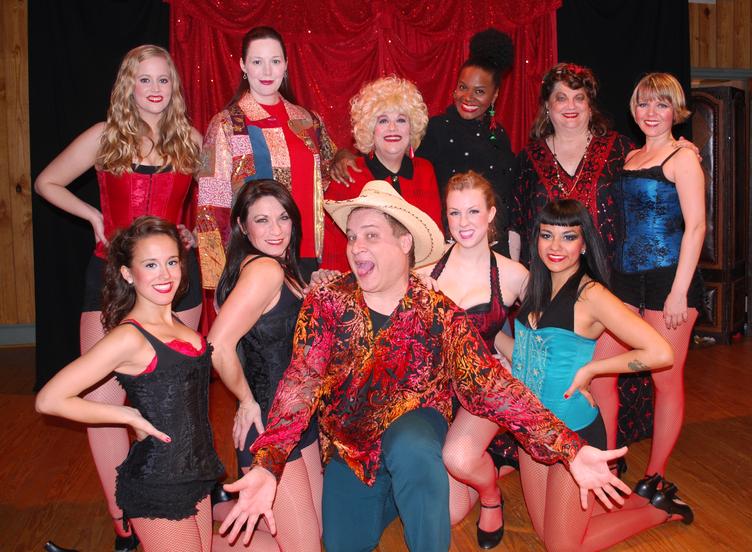 The cast of the 2011 show! Photo by Teatra Media Group.